David A. Watson ~ Independent Financial Advisor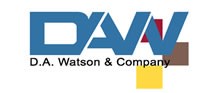 Welcome to our web site!
Because many people may regard financial planning as complex and confusing, they often miss out on many potentially rewarding financial opportunities.
D. A. Watson & Company's goal is to take the mystery out of investing, managing risk, preparing for retirement, and preserving your wealth. By helping you acquire the information you need to pursue your financial objectives, we hope to establish long and trusted relationships with our clients.
Discover how qualified charitable distributions work and why they may now be more valuable than taking a tax deduction.

Discover how indexed annuities work, including the risks and potential benefits of purchasing an indexed annuity contract.

See three options that may help you bridge the health insurance coverage gap between retirement and Medicare eligibility.

Dollar-cost averaging can help investors focus on building their portfolios through regular investing rather than reacting to market swings.