David A. Watson ~ Independent Financial Advisor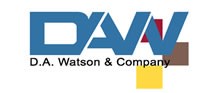 Welcome to our web site!
Because many people may regard financial planning as complex and confusing, they often miss out on many potentially rewarding financial opportunities.
D. A. Watson & Company's goal is to take the mystery out of investing, managing risk, preparing for retirement, and preserving your wealth. By helping you acquire the information you need to pursue your financial objectives, we hope to establish long and trusted relationships with our clients.
As new car prices skyrocket, these three trends could make 2019 a good year to buy a three-year-old vehicle.

Tax changes in the 2017 Tax Cuts and Jobs Act affect some investors more than others, with implications that spill into the municipal bond market.

An employee stock ownership plan may be a tax-friendly way for retiring small-business owners to pass the reins to employees.

Explore the basics of equity real estate investment trusts (REITs) including their potential benefits and risks.