David A. Watson ~ Independent Financial Advisor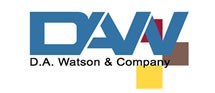 Welcome to our web site!
Because many people may regard financial planning as complex and confusing, they often miss out on many potentially rewarding financial opportunities.
D. A. Watson & Company's goal is to take the mystery out of investing, managing risk, preparing for retirement, and preserving your wealth. By helping you acquire the information you need to pursue your financial objectives, we hope to establish long and trusted relationships with our clients.
Some considerations for a divorcing couple who are dividing marital assets, such as retirement accounts, and filing for Social Security.

Some tips for parents and college students to consider, whether opening a new checking account or using an old one.

Review the potential benefits of an individual disability income policy vs. a group policy, as well as common riders.

One change made by 2017 tax legislation, a new way of measuring inflation, may have a significant effect on individual taxpayers over the long term.