David A. Watson ~ Independent Financial Advisor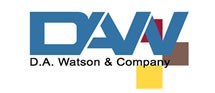 Welcome to our web site!
Because many people may regard financial planning as complex and confusing, they often miss out on many potentially rewarding financial opportunities.
D. A. Watson & Company's goal is to take the mystery out of investing, managing risk, preparing for retirement, and preserving your wealth. By helping you acquire the information you need to pursue your financial objectives, we hope to establish long and trusted relationships with our clients.
Roth IRA withdrawal and conversion rules and how they differ from other retirement plans.

How current trends in the retail industry could affect consumers, workers, and the broader economy.

What current trends in workforce automation could mean for U.S. workers, industries, and the broader economy.

An overview of nine different types of mutual funds, ranging from lower risk to higher risk.
Use this calculator to estimate how much income and savings you may need in retirement.

How much will it cost to pay off a loan over its lifetime?

Determine whether you should consider refinancing your mortgage.