David A. Watson ~ Independent Financial Advisor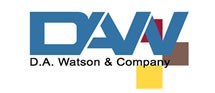 Welcome to our web site!
Because many people may regard financial planning as complex and confusing, they often miss out on many potentially rewarding financial opportunities.
D. A. Watson & Company's goal is to take the mystery out of investing, managing risk, preparing for retirement, and preserving your wealth. By helping you acquire the information you need to pursue your financial objectives, we hope to establish long and trusted relationships with our clients.
Find out whether a testamentary trust, living trust, or special-purpose trust can benefit your family.

A job loss after age 50 can carry serious consequences. These tips may help you prepare professionally and financially for a late-career challenge.

Do you know which factors influence bond yields and why the gap between short- and long-term yields is often viewed as an economic indicator?

Discover how indexed annuities work, including the risks and potential benefits of purchasing an indexed annuity contract.