David A. Watson ~ Independent Financial Advisor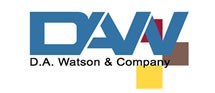 Welcome to our web site!
Because many people may regard financial planning as complex and confusing, they often miss out on many potentially rewarding financial opportunities.
D. A. Watson & Company's goal is to take the mystery out of investing, managing risk, preparing for retirement, and preserving your wealth. By helping you acquire the information you need to pursue your financial objectives, we hope to establish long and trusted relationships with our clients.
Making accurate quarterly payments on schedule can help taxpayers avoid interest penalties for underpayment to the IRS.

Step-up in basis on inherited assets differs from gifts, which are subject to carryover basis rules.

Understanding general obligation and revenue bonds, how bonds are rated, and potential benefits of tax-free yields.

The current state of the Social Security program and possible solutions to address the program's projected shortfall.