David A. Watson ~ Independent Financial Advisor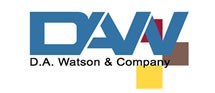 Welcome to our web site!
Because many people may regard financial planning as complex and confusing, they often miss out on many potentially rewarding financial opportunities.
D. A. Watson & Company's goal is to take the mystery out of investing, managing risk, preparing for retirement, and preserving your wealth. By helping you acquire the information you need to pursue your financial objectives, we hope to establish long and trusted relationships with our clients.
Treasury Inflation-Protected Securities (TIPS) can help hedge a bond portfolio against a potential spike in inflation.

Some tips for parents and college students to consider, whether opening a new checking account or using an old one.

A family limited partnership is a legal agreement that enables business owners and their heirs to address tax issues, business succession, and estate planning needs.

The new tax law includes several provisions that could benefit business owners, such as the pass-through deduction and write-offs for capital investments.