David A. Watson ~ Independent Financial Advisor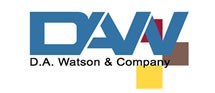 Welcome to our web site!
Because many people may regard financial planning as complex and confusing, they often miss out on many potentially rewarding financial opportunities.
D. A. Watson & Company's goal is to take the mystery out of investing, managing risk, preparing for retirement, and preserving your wealth. By helping you acquire the information you need to pursue your financial objectives, we hope to establish long and trusted relationships with our clients.
The differences between term life insurance and permanent life insurance and the advantages of an individual policy.

Some facts to help understand the issues behind the trade deficit headlines, and how China factors into the story.

On December 22, 2017, President Trump signed a sweeping $1.5 trillion tax-cut package that fundamentally changes the individual and business tax landscape. This Special Report provides an overview of the major corporate tax changes and a more comprehensive outline of the provisions likely to affect individual taxpayers.

The changes Original Medicare and Medicare Advantage plan beneficiaries can make during the annual enrollment periods.