David A. Watson ~ Independent Financial Advisor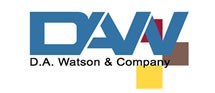 Welcome to our web site!
Because many people may regard financial planning as complex and confusing, they often miss out on many potentially rewarding financial opportunities.
D. A. Watson & Company's goal is to take the mystery out of investing, managing risk, preparing for retirement, and preserving your wealth. By helping you acquire the information you need to pursue your financial objectives, we hope to establish long and trusted relationships with our clients.
This article features a worksheet and relevant information to help estimate retirement expenses and income.

Surprised by the final numbers on your 2018 tax return? Here are some tips for adjusting withholding to help avoid surprises next tax season.

Find out how individual impact bonds may allow investors to preserve principal and generate income while supporting activities that are important to them.

How do recent classification changes reflect shifts in the telecommunications sector, and what does that mean to investors?