David A. Watson ~ Independent Financial Advisor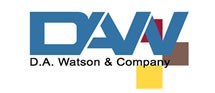 Welcome to our web site!
Because many people may regard financial planning as complex and confusing, they often miss out on many potentially rewarding financial opportunities.
D. A. Watson & Company's goal is to take the mystery out of investing, managing risk, preparing for retirement, and preserving your wealth. By helping you acquire the information you need to pursue your financial objectives, we hope to establish long and trusted relationships with our clients.
Find out how and why mergers and acquisitions take place (and why they matter to investors).

This article features a worksheet and relevant information to help estimate retirement expenses and income.

Association health plans may enable small businesses to save money, but how do AHPs compare to small-group health insurance?

Wondering if you can still write off 50% of the cost of business meals? Find out what is and isn't deductible.