David A. Watson ~ Independent Financial Advisor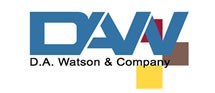 Welcome to our web site!
Because many people may regard financial planning as complex and confusing, they often miss out on many potentially rewarding financial opportunities.
D. A. Watson & Company's goal is to take the mystery out of investing, managing risk, preparing for retirement, and preserving your wealth. By helping you acquire the information you need to pursue your financial objectives, we hope to establish long and trusted relationships with our clients.
Learn about four financing options that might help small businesses expand, pursue new opportunities, or cover operating expenses.

Tips to help balance the competing demands of saving for retirement and providing financial support to adult children and aging parents.

More than half of retirees surveyed had retirement planning regrets. Explore the three most common mistakes and how to avoid them.

As web-based retail sales continue to grow, these tips may help ensure a safer online shopping experience.