David A. Watson ~ Independent Financial Advisor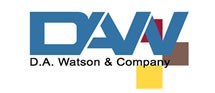 Welcome to our web site!
Because many people may regard financial planning as complex and confusing, they often miss out on many potentially rewarding financial opportunities.
D. A. Watson & Company's goal is to take the mystery out of investing, managing risk, preparing for retirement, and preserving your wealth. By helping you acquire the information you need to pursue your financial objectives, we hope to establish long and trusted relationships with our clients.
An overview of Section 529 savings plans, including their traditional use for college saving and the new rules for K-12 tuition.

Find out how and why mergers and acquisitions take place (and why they matter to investors).

Some strategies to help fixed-income portfolios weather a period of interest rate uncertainty.

In addition to setting aside pre-tax income to pay current and future medical expenses, an HSA could play an important role in your long-term retirement strategy.