David A. Watson ~ Independent Financial Advisor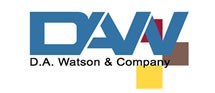 Welcome to our web site!
Because many people may regard financial planning as complex and confusing, they often miss out on many potentially rewarding financial opportunities.
D. A. Watson & Company's goal is to take the mystery out of investing, managing risk, preparing for retirement, and preserving your wealth. By helping you acquire the information you need to pursue your financial objectives, we hope to establish long and trusted relationships with our clients.
View Social Security's financial outlook, plus seven proposed fixes for a looming shortfall that may affect future benefits.

Even if you and your spouse have separate retirement accounts, you may still be able to craft a unified savings and investment strategy.

The Fed signaled a pause in raising interest rates. How markets reacted and what the change says about the direction of the U.S. economy.

An investor's personal situation should be considered when assessing his or her risk tolerance.